Growing Support for Climate-Smart Agriculture by Scaling Up Farmer and Climate Field Schools: Recommended Policy and Institutional Reforms
POSTED ADMINISTRATOR
Policy Brief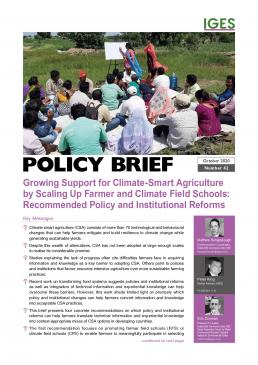 Languages:
Number 42Author:
Publication Date:October 2020
Publisher:Institute for Global Environmental Strategies
Climate smart agriculture (CSA) consists of more than 70 technological and behavioural changes that can help farmers mitigate and build resilience to climate change while generating sustainable yields. Despite this wealth of alternatives, CSA has not been adopted at large enough scales to realise its considerable promise. Studies explaining the lack of progress often cite difficulties farmers face in acquiring information and knowledge as a key barrier to adopting CSA. Others point to policies and institutions that favour resource-intensive agriculture over more sustainable farming practices. Recent work on transforming food systems suggests policies and institutional reforms as well as integration of technical information and experiential knowledge can help overcome these barriers. However, this work sheds limited light on precisely which policy and institutional changes can help farmers convert information and knowledge into acceptable CSA practices. This brief presents four concrete recommendations on which policy and institutional reforms can help farmers translate technical information and experiential knowledge into context-appropriate mixes of CSA options in developing countries.